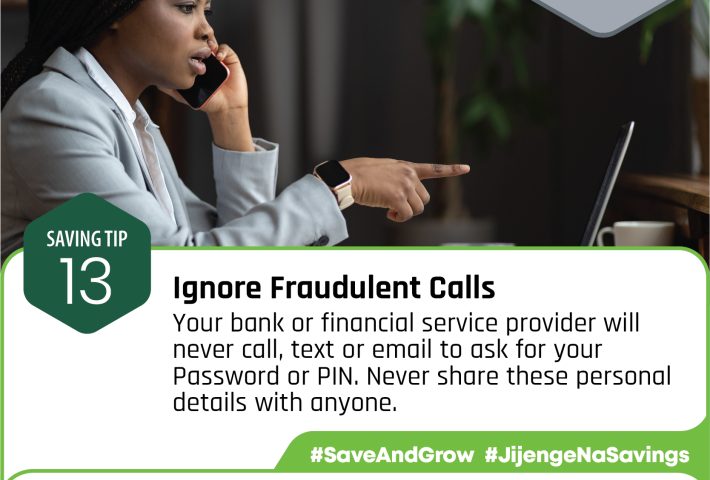 The Banking and fintech sectors continue to evolve, driven by technology and the Internet of Things (IoT). While banks leverage on these new developments to enhance their efficiency and customer experience, a generation of new-age fraudsters is quickly growing and is constantly finding new ways of trying to swindle Kenyans of their hard-earned money.
It is important to note that fraudsters will attempt to gain unauthorized access to your bank account through your mobile banking, internet banking platforms and your cards through well-planned schemes or sometimes by sheer luck when we mishandle our information or devices allowing them to take advantage of us. Kaa Chonjo!
We would like to share a few tips on how to safeguard yourself from fraud and key actions that you must take when you suspect that you may have been exposed.
Do Not Click on Suspicious Links
Many fraudsters use clickbait emails or SMSes mostly promising rewards or threatening you. This often excites many of us or drives fear into us leading us to click on the links which often have malware or spyware enabling fraudsters to take over your devices or expose your password to the wrong people. To protect yourself from this, remember this rule of thumb – If you do not recognize it, do not click it! Better safe than sorry!
Take care of your Mobile Devices and Payment Cards
Most mobile banking Apps, including the KB Mobile App and *344#, use the two-step authenticator to successfully complete bank transactions, be it sending money, paying bills or buying airtime. If your SIM is swapped, a fraudster can receive these prompts to complete fraudulent transactions. This also applies to your KB Visa debit card. At the back of your card there is a unique 3-digit number often referred to as the CVV number. If a fraudster takes a photo of your card and has the CVV number, chances are they will use your card to make fraudulent transactions online. Kaa Chonjo!
To protect yourself from such instances, always ensure that your card is not out of your sight when you are making payments at merchant locations. For your mobile device, never let someone else handle this for you even when attempting to support you with an issue to avoid physical sim swap. Finally, if you lose your phone or debit card, urgently visit your nearest Kingdom Bank branch or call 0709 881 300 to block mobile banking and your card to prevent fraudulent transactions.
Engage with Kingdom Bank only through Official Communication Channels
For any queries on your account or transactions remember that Kingdom Bank has official communication channels including the Call Centre Number 0709 881 300 and our verified social media pages. Also note that Bank staff will NEVER ask you for your mobile banking PIN or transaction code to help you resolve an issue. If someone is pretending to offer you help and requests for these details, stop further engagements and contact Kingdom Bank through 0709 881 300 for support and guidance.
Kaa Chonjo!